We are raising money for emergency home repairs to Nada's house. Spring rains are coming and they will destroy what's left of her home, so we would like to get it repaired before this happens and the costs skyrocket. The roof, ceiling repairs and door replacements are a top priority to keep out the elements.
Hey There Friends!  This Campaign Is To Help Nada Save Her Home!!
This Is Perrin! The Most Ferocious Guard Dog You've Ever Seen!  He's The Star Of Nada's Home!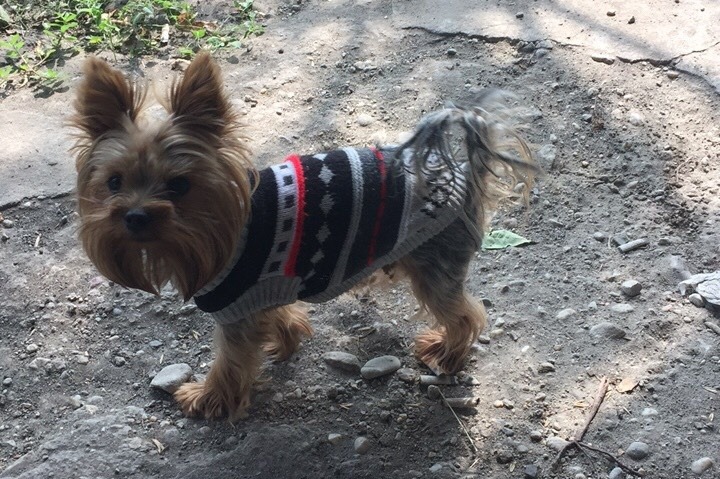 She Also Have A Feisty Turkey Named Ben Franklin! Say Hello Ben!

I Can't Forget About Her Chickens and Chicks!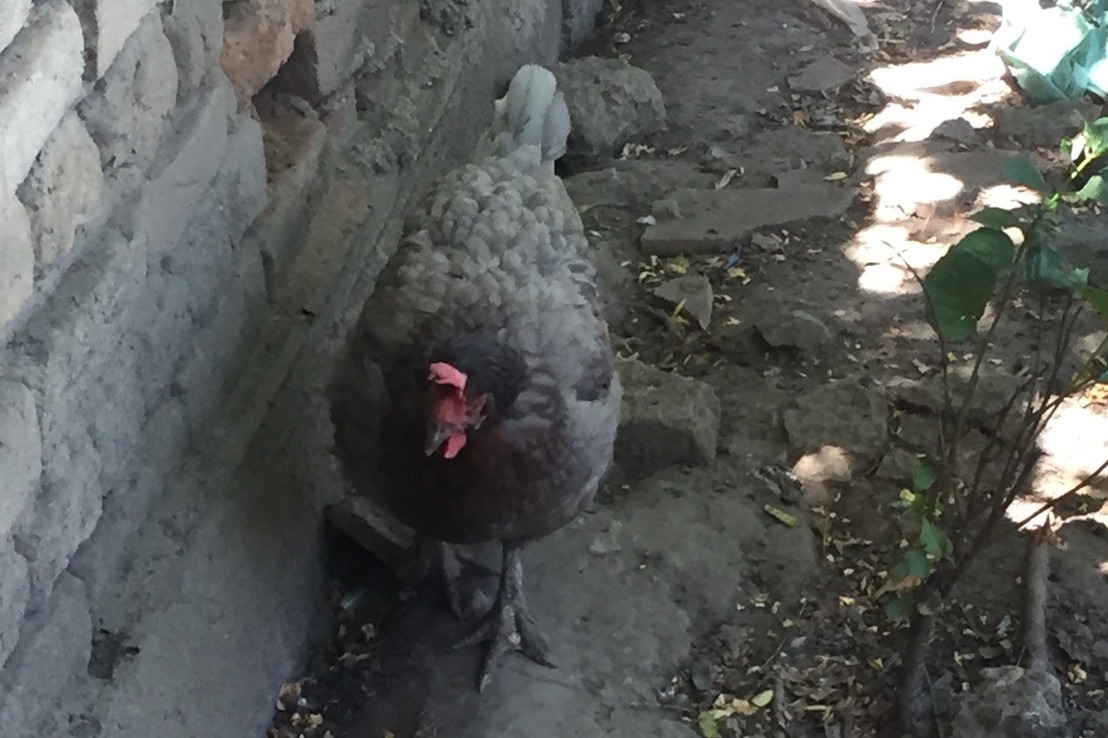 So You Can See She Had A Great Little Family!
About Nada!  What's Her Story?
Nada is 37 years old and one of the hardest working and intelligent women I have ever known.
Ever since she was a child she helped raise, educate, feed and clothe her 3 sisters while her parents worked.  She worked from before she was in high school to help provide for her family.
After graduating with honors from high school she went on to pursue a college degree.  She attended college and again graduated with honors only to go on to medical school, which she completed, all on scholarships for her academic prowess.
She worked for several years as a doctor in hospital in the Romanian city of Timisoara, which is where she is from.  Later, due to family problems she had to sell her home that took her 11 years to save for to provide money for her diabetic parents for their care.
This did not stop her though.
Nada could find no home she could afford in her beloved Timisoara but she found a house she could afford in a rural area of Romania called Urzicuta.  It isn't a glamorous place, just a small farming town of 3,100 people.  Simple good folk.  She would have to quit her career as a doctor and find something else for work there but she could have a house of her own again and start over.

She made the move.
The house needed a lot of work!

The yard was a disaster!
The neighbors dog seems to enjoy it but we did not.
It would be incredibly difficult, time consuming, and the costs would rise, but it was a start and chance at something and she had to take it.
After time progress was being made!
The bedroom went from this :


To this! 


And the yard?  While not a total make over it is one heck of a transformation!

And just to think before it was like this!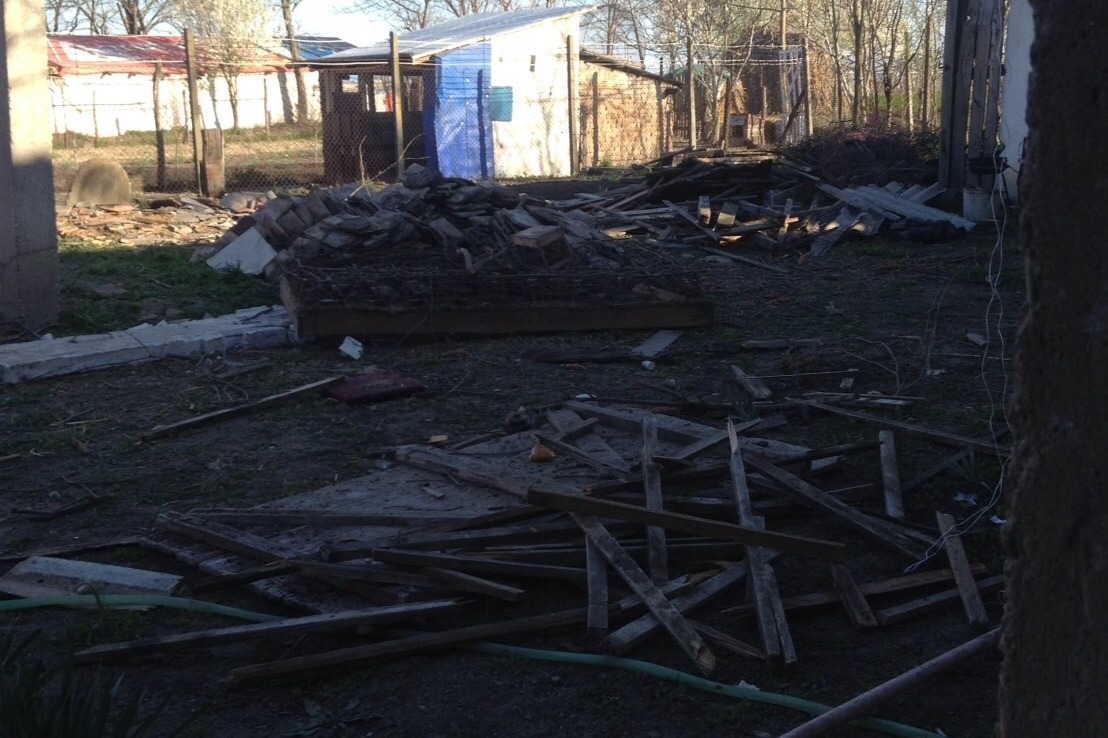 It Was Awful!
But That Brings Us To Today.
Nada has a full time job working manual labor making molds for decorate cement statues, wall panels, sidewalks, all sorts of cool stuff!  It's very hard work and it pays very little, but she is able to keep afloat if barely.
That was until recently.  Unfortunately Nada fell down a flight of stairs breaking her right arm in several places and her hand, needing a cast, expensive x-rays, many months of physical therapy and treatment, and this would also mean she could no longer work at her job and in such a small town with very high unemployment she had little hope of finding another one that she could do.
Nada reached out to her family and they refused to help her.  Her parents disowned her for her relationship with me and her non-fanatical view of her parents faith of Islam.  Her sisters have young children and money problems of their own, so they were unable to help her.  She needed a solution.
So Who Am I And Where Am I In All This?

Well my name is Jason Wheeler, nice to meet you and thank you for stopping by!
Unlike Nada I live and work in the United States.  I live in a small town called Princeton in Illinois.  I share a split level house built in 1864 with my 67 year old mother, I live upstairs (it has a kitchen & bathroom) and she lives on the larger ground floor.
I do the yard work, housework and maintenance, all the physical labor around here.  My father died when I was very young, so it's been my mom and I supporting each other most of my life.
I spent time in the US Army, went to university and have traveled extensively in my life.  This is how I met Nada.  I was planning a future trip, took a break from the depressing costs I was calculating and wondering how I could make things cheaper so I could afford it, when we struck up a conversation on an amateur crime solving forum.  We kept in touch and over a few months really hit it off!  It wasn't long before we were on the phone with each other and skype almost nonstop.  Our mutual love of animals, nature, music and mysteries blossomed into a love we share between each other.
Why Haven't You Moved There?!
Well I would love to move to Romania to be with Nada but it has taken me some time to save money, to make sure my mom is properly looked after, she has type 1 diabetes and kidney disease and can't do any physical labor, and she has trouble walking well because of a femur replacement she had from being hit by a drunken driver as a child.  So working with my family I want to make sure my mom isn't abandoned.
What this does allow me to do is work here and save money to send to Nada.  Unfortunately work here doesn't pay much, and with the monthly requirements of our bills like utilities, gas for our vehicle, insurance, food, etc, it doesn't leave much for Nada to use.  But I do what I can and plan to do more! Here's how!
What Is Our Campaign For? 
Our campaign is to raise funds to repair damage to her home that have emergency status.
Like the ceiling!

Replacing doors that provide no protection from intruders or the weather and it gets very cold there in the winter!

We also need to remove much of these broken pieces of concrete and debris from the yard, although some has been stacked as best as possible, the service that removes and disposes of it all is quite expensive there.
There is roof damage as well that causes water to leak but we couldn't get up there to snap photos yet, need to get a taller ladder first!
We would also like to help Nada with her ongoing medical costs from her broken arm and hand, such as future x-rays.
How Much Money Are We Talking About Here?  What's The Breakdown Of These Expenses?
We have estimates from local labors and contractors.  I will break these costs down below.
The Ceiling :
The whole ceiling needs to come down and be replaced because of the extensive nature of the damage from the leaking roof.  The local contractors estimated this to cost 1,200 Euros with labor and materials.
The Roof :

The roof uses tiles, much like homes in Arizona and parts of California.  Many of these tiles were damaged in storms and harsh winters over the years and were never replaced before Nada bought the house. Unfortunately at the time she was unaware of the extent of the damage.  The local contractors have estimated the costs of the repairs to be at 4,500 Euros with labor and materials.
The Doors :

The doors leading to the outside in 4 locations are barely functional.  They are over 80 years old and one made of boards.  They provide no protection from the weather, wind, or more importantly intruders.  We aim to replace these doors with secure ones so she can be safe in her home.  The local contractors have estimated the costs of replace these doors to be at 550 Euros.
Nada's Broken Arm And Hand :

Nada's arm and hand are currently in a cast.  Hopefully the bones heal correctly and she won't need potential surgery to correct them, which the doctor says could be necessary.  We are hoping for the best here that that will not be needed!  What she does need for certain are x-rays to check on her progress, how her bones are healing, it is much better to identify early any problems that may develop with bones healing improperly.  These x-rays are out of pocket costs and not covered by any insurance she has.  The radiologist has stated that these will cost 400 Euros.
The Dangerous Debris In The Yard (Optional) :
I listed this as last because it is the least immediate of the problems.  The debris is made up of many dangerous materials such as concrete, nails, various pieces of wood and lumber, old windows (we replaced them with new ones), an old shed that was torn down, trees that were cut down, old furniture that was left by previous owners, broken glass, assorted sharp metal debris like re-bar and posts and some old broken appliances that were left by the previous owner such as a refrigerator, stove, washer and dryer.  This junk is dangerous and does pose a hazard to Nada, Perrin, Ben Franklin, her chickens and others.  It is also a terrible eye sore for her and her neighbors.  But if funds cannot be raised to cover the costs of the removal of the junk we can hold off until a later date.  The waste disposal company in her area quoted Nada an estimate of 800 Euros for the clearing of the debris.  This includes laborers, an excavator, and dump truck to remove the heavy concrete and other debris, and the disposal of all of it.   Again this is an optional cost for now.  And one we can hold off on for the time.
Total Cost Analysis And My Contribution :
As you can see the total cost of the above expenses excluding the optional yard waste expense is 6,550 Euros.  This is more than what we are campaigning for.  I am working to cover as much of all the costs as possible myself.  Unfortunately I do not earn enough income to cover all these costs in a timely enough fashion to hire the contractors, get the work started, and finished before Spring weather comes in and drowns her out, destroying what's left of her last possession on this earth, her home.  I am going to post my contributions and savings amount on this campaign page regularly, both to inform you and to have a nice visual reminder to Nada that we care and there IS hope!  That we are going to save her and her home!
Nada has never asked anyone for help.  She has always been a reliable, self reliant, hard working woman who can take care of herself.  But none of us are an island unto ourselves.  We all need each other, to support, care and look out for each other.  We are all human beings here, living together on this beautiful planet we call home.  We must remember the power of acts of kindness.  The difference even the smallest contribution we can make will have on that person.  Every day we change each other's lives, for better or for worse.  We all impact each other, intentionally or not.  Nada has helped many people in her life, many patients lives saved by her hands.  I want to help her.  I hope that you do as well.
Any contribution/donation you can give is greatly appreciated!!  Even a dollar goes a long way!!  Help us save Nada's home!  Join me in showing kindness and compassion towards an incredible person who has spent her living giving to others!!
Thank you for reading Nada's story!  Thank you for donating what you can afford to!!  Thank you from the bottom of our hearts for you kindness and compassion!!